BUILDERS BAG KILN DRIED HARDWOOD LOGS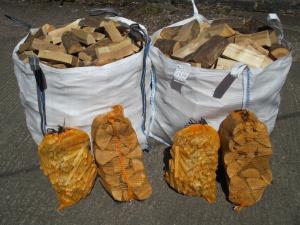 3 or more Builders Bags £95 each

Let us know what size your stove is then we can grade the size of log into the bags to suite your stove. i.e. smaller cut logs for 5kw stoves and large cut logs for 8/10kw stoves.

These bags contain SILVER BIRCH which are recognised as having one of the best burning qualities of all hardwoods. Our logs produce a fantastic blaze that put out fantastic amount of heat and burn for a long time.
Our firewood is dried to a average 20% moisture or less and the logs are cut to 250mm / 10'' in length.

MINIMUM fuel order for FREE delivery is £100 or TEN 25kg bags to Post Codes: TF1 - TF2 - TF5 - TF6 - TF9 - TF10 - CW3 - CW5 - SY1 - SY2 - SY3 - SY4 - SY5 - SY13 - SY14 - ST20 - ST21
MINIMUM fuel order for FREE delivery is £200 or twenty 25kg bags to Post Codes:
TF3 - TF4 - TF7 - TF8 - TF11 - SY6 - SY12 - LL13 - ST5 - ST7 - ST12 - ST15 - ST16 - ST18 - CW1 - CW2 - CW6 - WV7 - WV8 - WV15

Coals and firewwod/kindling can be ordered together to meet minimum order values.


© Shropshire Coal & Logs Limited 2019