BARROW BAG ASH or OAK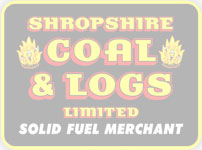 Specify ASH or OAK when you order
The barrow bag contain stacked logs (not loose filled) resulting in upto 50% more logs in that bag. The benefit of these bags is they can be wheeled around your property up paths etc and the bag has a lid. The bag measures 610mm x 610mm/24'' x 24'' and it is 1m/40'' tall

These bags contain ASH or OAK which are recognised as having one of the best burning qualities of all hardwoods. Our logs produce a fantastic blaze that put out fantastic amount of heat and burn for a long time.
Our firewood is dried to a average 20% moisture or less and the logs are cut to 250mm / 10'' in length.

MINIMUM fuel order for FREE delivery is £100 or TEN 25kg bags to Post Codes: TF1 - TF2 - TF5 - TF6 - TF9 - TF10 - CW3 - CW5 - SY1 - SY2 - SY3 - SY4 - SY5 - SY13 - ST20 - ST21
MINIMUM fuel order for FREE delivery is £200 or twenty 25kg bags to Post Codes:
TF3 - TF4 - TF7 - TF8 - SY6 - SY12 - SY14 - LL13 - ST5 - ST7 - ST12 - ST15 - ST16 - ST18 - CW1 - CW2 - CW6

Coals and firewwod/kindling can be ordered together to meet minimum order values.
© Shropshire Coal & Logs Limited 2020